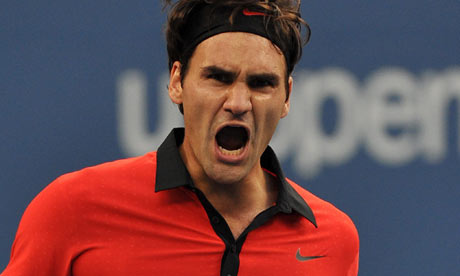 Roger Federer. Photograph: EPA Jason Szenes
He's the most beloved figure among American tennis fans.
Uncontroversial, classy, exceptionally skilled, and a flat-out winner. He's the crowd favorite in nearly every match he plays on US soil, and even his practice sessions can command bigger crowds than many rank-and-file players' actual matches.
Ironic, then, that Roger Federer is the man responsible for the destruction of American men's tennis.
That may seem like an exaggeration. Well it is an exaggeration. But consider:
Prior to Federer's "arrival" at Wimbledon 2003, American men had won 25 of the prior 50 majors. Since then, they have won 1 of 50.
Okay, you say, but that is a coincidence. The Courier/Agassi/Sampras generation was nearing its end and the new generations haven't had their talent, their winning natures. Changes in the surfaces and technology and training techniques worked against Americans' style of play. And plenty of other players have won majors besides Federer, who by the end of this US Open will have only won either 34% or 36% of those 50 majors. Plenty of other players have made life rough for American men.
But really, it's Federer.
More than anyone, Federer has figured out how to break down his American opponent's best weapons (and exploit their biggest weaknesses), on their best surfaces and in their best tournaments. He does his damage when hopes are highest, when matches are biggest, when nearly any other opponent could be taken down. He always* prevails. And he did it first.
As we've heard a bazillion times, American men haven't won a major since
Andy Roddick's
2003 US Open triumph. But they've reached 5 finals in that time - 3 Wimbledons and 2 US Opens. And each time they lost to Roger Federer.
It's not just the finals, though. So many opportunities at what could have been a signature win for American men have been thwarted by the GOAT (see below). We saw it at the US Open this year: America's best hope was
John Isner
who was playing lights-out ball on his way to the 4th Round. He could have made his second career major quarterfinal, and come close to re-entering the Top 10. And while he put up an excellent fight, he lost in straight sets to Federer.
Then there's
James Blake
. He reached 3 major quarterfinals in his career. In 2 of those, he lost to Federer. In the 3rd, he lost to Agassi ... who would go on to lose the final to Federer.
Agassi did get a grand slam win over Federer, in the 2001 US Open 4th round, prior to Fed's real breakthrough. But after that, he went 0-3 (2 quarterfinals and a final), undoubtedly diminishing Agassi's otherwise stellar late career.
And then there's Roddick, who in addition to the 4 major finals losses to Federer (one of them the most gutting loss of his career) lost to the Swiss in 3 semifinals and a quarterfinal.
(And, prior to his "arrival," Federer of course famously ended
Pete Sampras
' 31-match Wimbledon win streak in 2001.)
In all, of Federer's 31 grand slam wins over Americans,
20
(64.5%) have come in the 3rd round or later, and more than half (16, or 51.6%) have come in the 4th round or later -- the second week, when it really matters. Compare that to Nadal, who himself is 23-2 against Americans in majors. 16 of the 23 wins (69.6%) have come in the 1st or 2nd rounds, mostly to qualifiers and wild cards; only 4 (17.4%) have come after the 3rd round. Djokovic is 18-2 against Americans in majors, but again, half of those wins were in the first 2 rounds, and mostly to Q/WCs; and, like with Nadal, only 4 (22.2%) came after the 3rd round.
Federer's wins have just been that much more meaningful, much more ... damaging. Much more ruinous.
And it's not just at majors. Federer was there when James Blake played perhaps the biggest match of his career, at the 2006 Masters Cup Finals (after Blake had defeated Nadal), and in both of Blake's Masters Series finals. He beat
Mardy Fish
in the 2010 Cincinnati Masters final, Isner in the 2012 Indian Wells final, and Roddick in both of their Masters Series finals (Cincinnati and Canada).
Now don't get me wrong. Americans have lost to a wide range of players over the past 15 years. Their disappearance from the Top 10, and at times from the Top 20, cannot be laid solely or even mostly at Roger's feet. Sampras' final Wimbledon loss was to Georg Bastl. Agassi's final career loss was to Benjamin Becker. Roddick lost to Yen Hsun Lu at 2010 Wimbledon and to Gilles Muller at the 2004 U.S. Open. Isner fell to Alejandro Falla at Wimbledon 2012. And in big clay tournaments, nearly anyone can beat even the top Americans.
We categorically would
NOT
be in some kind of Golden American Era absent RF.
But things would have been better. Significantly better. Perhaps even orders of magnitude better. We'd be looking at a 5-year major title drought instead of a 12-year drought. A longer reign at #1. A few more Masters Series titles. Hell, maybe even John Isner in tomorrow's US Open final.
Federer will retire within the next few years, although one cannot confidently say when. And as I've predicted, we'll be seeing far more American men's tennis success in a few years. Federer was the harbinger of European dominance in men's tennis, and I believe his farewell will coincide with the continent's (relative) decline.
So please do cheer for him tomorrow, lustily, my fellow Americans. I surely will. But please do so knowing the destruction he has wrought on our fine country and its remarkable tennis tradition.
*Make that almost always. It should be noted that many of Americans' most important wins in the past decade have come against Federer. Isner in Davis Cup. Blake at the 2008 Olympics. Fish in the 2008 Indian Wells semis.
APPETITE FOR DESTRUCTION
Here are some of Federer's most epic blows against American tennis:
2001 Wimbledon R16
: Roger Federer d. Pete Sampras 7-6(7) 5-7 6-4 6-7(2) 7-5. The match that has gone down in history as a changing of the guards, it ended Sampras' 31-match winning streak, and presaged the future almost perfectly.
2005 US Open Final
: Roger Federer d. Andre Agassi 6-3 2-6 7-6(1) 6-1. Agassi's last stand. A set all, 6 games all. Roger won 7 of the final 8 games. (Notable that Agassi had already beaten Blake in 5 in the quarters then
Robby Ginepri
in 5 in the semis.)
2006 Masters Cup Final
: Roger Federer d. James Blake 6-0 6-3 6-4. Blake was having his best year ever, having recovered from his broken neck, beaten Andy Roddick a couple of times that year, and by reaching the final, assured himself of the year-end #4 ranking. Federer destroyed him.
2009 Wimbledon Final
: Roger Federer d. Andy Roddick 5-7 7-6(6) 7-6(5) 3-6 16-14. If any single match can be symbolic of how Roger Federer destroyed American tennis, it's this one.
2010 Cincinnati Final
: Roger Federer d. Mardy Fish 6-7(5) 7-1(1) 6-4. Mardy, a wild card, had beaten Gilles Simon, Fernando Verdasco, Andy Murray, and Andy Roddick to reach the final. He was at the top of his powers. In retrospect, he says he could have won that. And perhaps he could have. But he didn't.
2015 US Open R16
: Roger Federer d. John Isner 7-6(0) 7-6(6) 7-5. Hey, at least Isner avoided Philipp Kohlschreiber in the 3rd round to get there. In fact, he avoided losing a set in his first three rounds, or even getting to 5-5 in a set. It was his best showing, ever. I know it doesn't rank nearly as highly as some of the other losses. But it inspired this article, plus: fallacy of recency!
Many thanks to Tennis Abstract, whose copious results and easy sorting helped make this article possible.
What was America's most ruinous loss to Roger Federer?